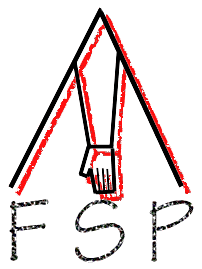 This started out as a Central Bucks West high school student project, although I can't remember for which class. My friends and I had done a video project for our AP English class, a retelling of The Romance of Tristan and Iseult updated to modern West Virginia. I still don't remember why that was something that I actually got class credit for in an actual functioning secondary school. It was predictably awful but it merely whetted our appetite to be bad in a more original and ambitious way.
Neil Binkley, Luke Irwin and I started the project in the fall of 1990 and haphazardly recruited assorted friends as actors and extras. Armed with a box of props largely scavenged from Neil's farmhouse and a budget that encompassed buying 8mm videotape and frequent trips to the Montgomeryville PA Taco Bell, we set out to create an original horror/comedy film.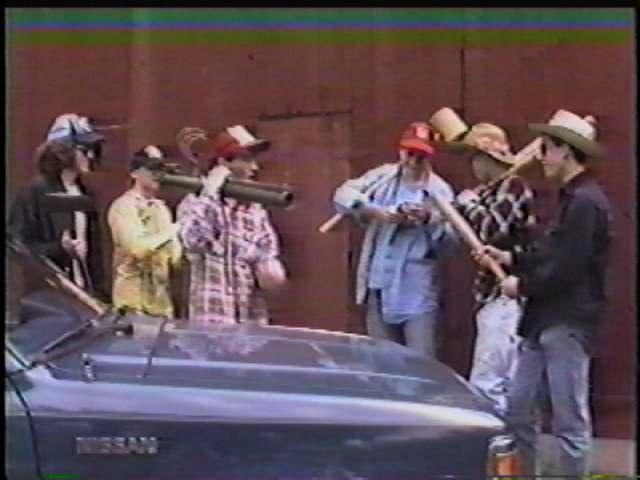 The title and the titular villain came from a wonderfully atmospheric song on Bob Dylan's Oh Mercy album. The plot, insofar as it can be said to have one, came from my lingering fascination with Agatha Christie's And Then There Were None. The railroad track was a stretch of the SEPTA line between New Britain and Doylestown.
Our actors were chosen based on who was available for filming after school on the particular days we needed someone to get killed, redshirt-style, on camera. Sets were the houses of whichever parents were most willing at the time to tolerate us. The presence of a shower scene was both a conscious homage to Alfred Hitchcock's Psycho and a shamefully gratuitous abuse of our friend Libby's willingness to stand in a shower wearing a bikini and be filmed getting killed. Our special effects were high on ingenuity value and essentially nonexistent on production value (pumpkins do not make effective head stand-ins and Heinz's ketchup is not convincing blood). I got a hat that says "Ernie's Liquor Barn" from a thrift shop (I still have it) and today I'm amazed that we were able to legally purchase chewing tobacco as 17-year-olds back then.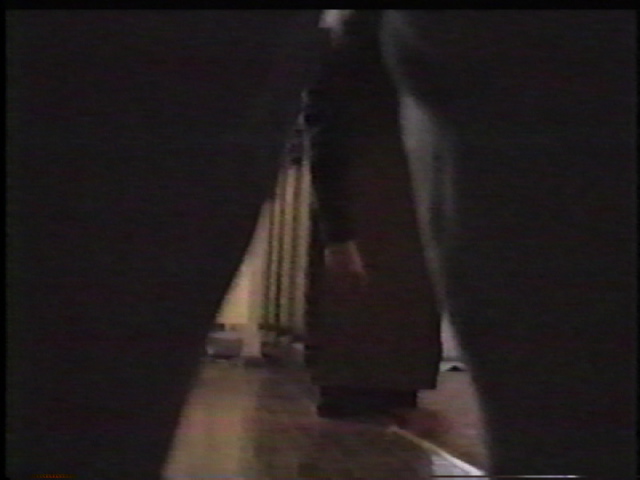 I think that Luke, Neil and I had collectively gone by the name "Hippy Industries" before this, but the name "Fearsome Symbolism Productions" came out of Man In the Long Black Coat, based on our inserting phallic imagery wherever possible on the theory that it would incite the feminist repudiation of Freudian theory espoused by one of our teachers. (It seemed to make sense at the time.) FSP would go on to be our collective nom du film for the next few years, and I still have a registered business license in that name in case I ever figure out what to do with it. I imagine that a line of FSP merchandise on Etsy is probably the next big project for me.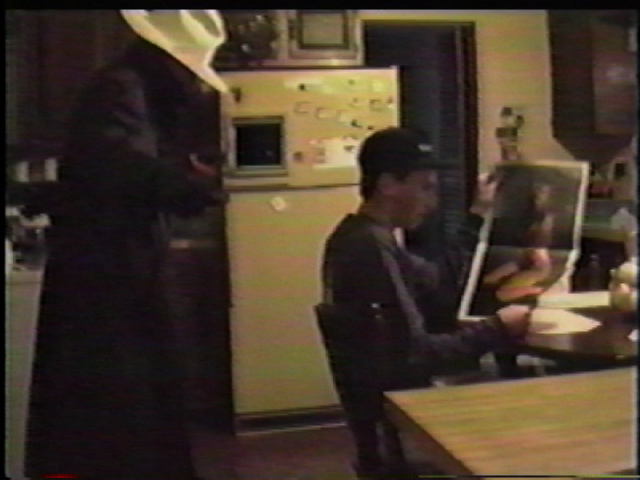 Our schedule left us time to basically shoot at each location once, and we learned painfully in retrospect how important proper lighting is (We had none, proper or otherwise, so some already washed out scenes were largely rendered invisible.) The "Richard Cranium" who shows up often in the credits was how clever 17-year-olds try to sneak the words "dick head" into the credits of a school project and I'm not sure how that didn't get edited out when this eventually made its way onto local access cable TV.
It was shot and edited on Neil's 8mm video camera, so back in that analog world every generation of edits lost some quality. (Not that there was a lot of quality to begin with.) Later this version was transferred to 3/4″ tape for broadcast and a few additional edits, and recorded on VHS. From there I eventually transferred it to interlaced Standard Definition digital video, so alas it won't be being re-released in a 4K director's cut UltraHD BluRay anytime soon. YouTube won't let me show it because of all the copyrighted music we used, so excuse the MP4 video file hosted on my server if it's slow to load.
All things considered, our first bona fide Fearsome Symbolism Productions effort was a lot of fun, even with all the cringe-worthy elements in retrospect. And if you have half as much fun watching it as we had making it, then we've had twice as much fun as you.
Click the image below (or the link below it) to watch: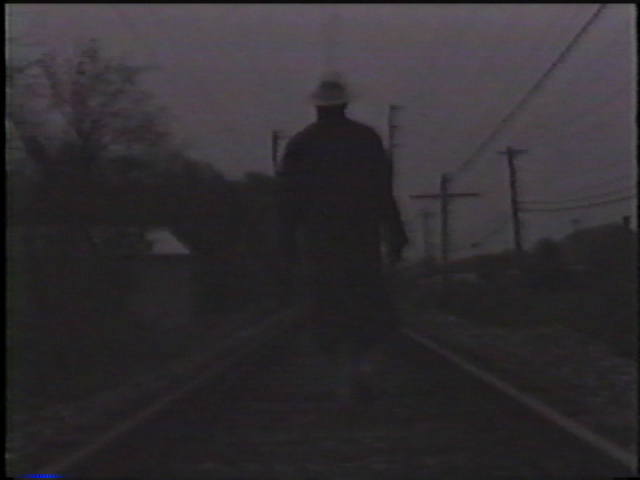 http://www.fearsomesymbolism.com/media/LongBlackCoat.m4v
Cast
Joe Auger – the Man In the Long Black Coat
Libby Beard – Bobby Sue
Josh Blaker – John Lennon
Neil Binkley – Bob
Mike Bowen – Bob
Jeffrey Carl – Bob
Brian Eldon – starring as Sheriff Jeb
Lucas Irwin – Bob
Andy Kessler – Andy Warhol
Doug Klumpp – Deputy Bob
Rob Lorch – Big Bob
Justin Wirth – Truck Drivin' Bob
Crew
Neil Binkley – Director of Cinematography
Jeffrey Carl – Assistant Cameraman, Sound Engineer
Luke Irwin – Editing, Graphics, Assistant Cameraman, Sound Engineer
FSP – Effects, production, writing