By Jeffrey Carl and Paul Caputo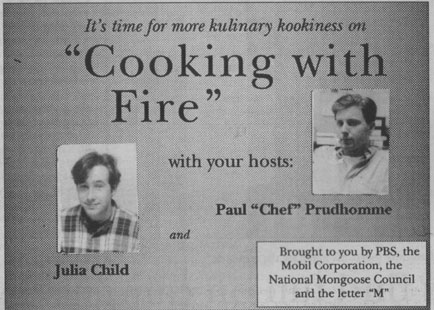 The only thing I recall about his one is that we had to work for a while to come up with an acronym to make "U.R.K.E.L." After that, I think we wrote this one in a hurry. And it shows! Not in a good way!
We've been watching too much TV.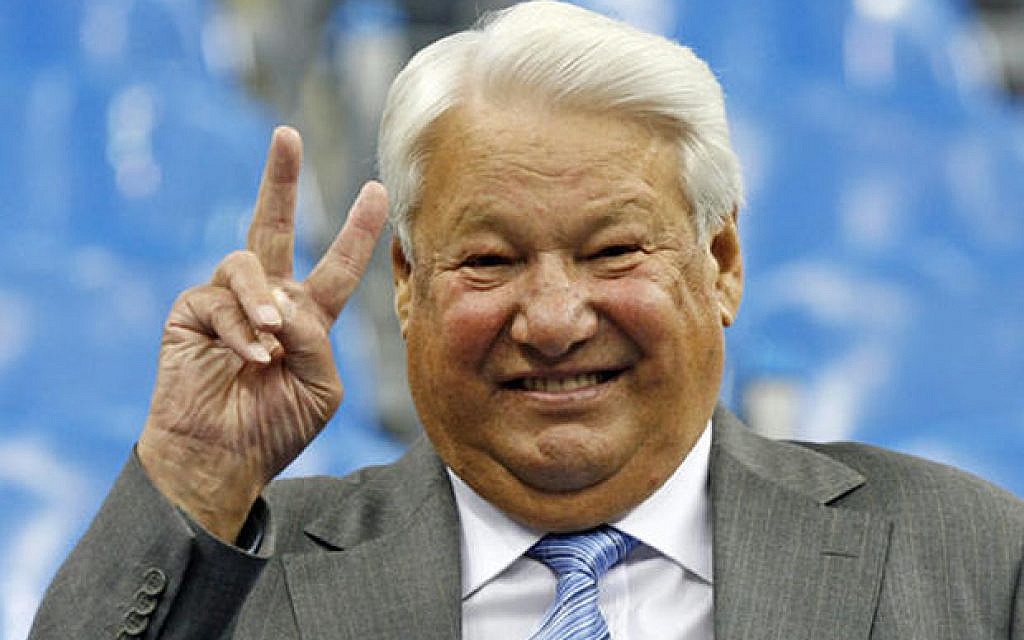 At any rate, it seems that each station has decided to have its own awards. ESPN has the Espys. You have the Golden Globes, the Oscars, Emmys, Grammys, Tonys and the ACEAwards. Even the weather channel is having its first ever "Radar Image" Awards, hosted by Chevy Chase and a zany yet lovable tropical storm heading NNE at 15 mph.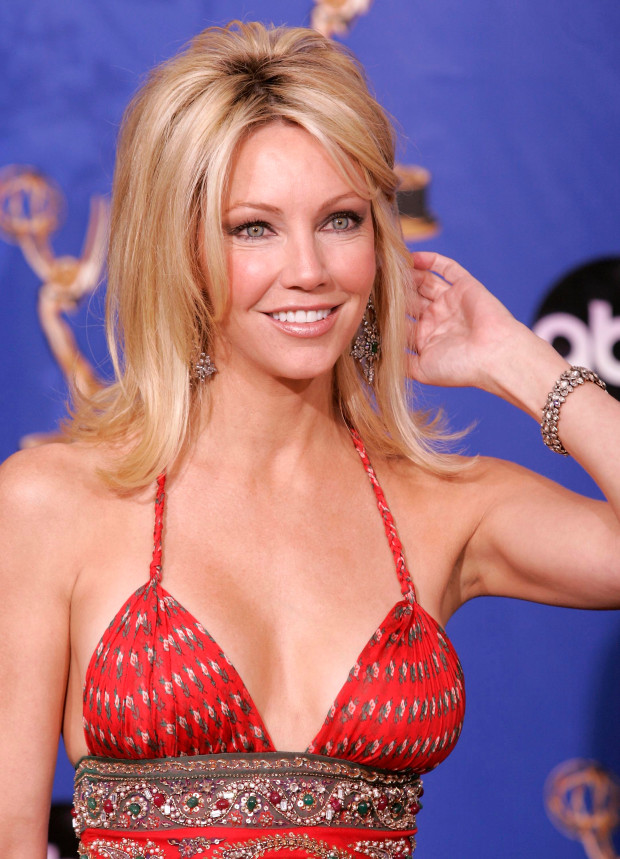 We don't like jumping on any fad bandwagons. On the other hand, we are fresh out of ideas and we have this half a page to fill. So we are proud to present the URKEL(University of Richmond Kommunity Enrichment Laurels) Awards. Here are your hosts, Boris Yeltsin and Heather Locklear.
Boris: Dobrii pozdotshlavaya, i perestroika Chechnya. [Translation: Hello and welcome to the awards. Exits are here, here, here and here.]
Heather:Oh, Boris. You're so funny, and pudgy, too.
Boris:Boingy boingy. [Do not touch me.]
Heather: Well, let's get on with the awards.
Boris: Boingy boingy. [There is baloney in my slacks.]
Heather:That's right. Our first trophy, the most coveted prize of the evening, is the "Scott Shepard/Ticket Lady Memorial Award for Pure Evil." Boris, who are the nominees?
Boris: Zhlobny grovitsa, shto Skot Shepardd… [Obviously, Scott Shepard…] i Tikyeta Babushka [and the Ticket Lady…] i tovarischa trotsky glorp Bambishka [and, for no particular reason, Bambi.]
Heather: And — it's a tie! — the surprise winners are … Alison Bartel Lord and "The Web," for conduct above and beyond the call of pure evil. Each winner receives a trophy, a free ad in The Collegian, and a parking ticket.
Boris:Da, i nyet Webski Schmebski. [I get the feeling that The Web is really going to clean house tonight.] Et tollanum tyrranicus, sic semper Cæsarium. [Also, I'm completely stoned.]
Heather: Tee hee. [Ha ha.] Our next award is the Jason B. Roop Monolith for savage, ruthless political conflict. Boris Baby — the nominees, please?
Boris: Ich bien ein Hausfrau, und Reichschancellor Morrill… [First is President Morrill, for his execution of political dissenters and Wake Forest saboteurs…] mit der Pebbles ein D-Hallzeitungliebchenschaftbund… [and Pebbles from the D-Hall for her brutal repression of the disturbances in Chechnya…] und der Strudelmeister Oktoberfesten Rommelswagen Prince. [and the artist formerly known as "Prince."]
Heather: Oh, Boris, you're a cutie-pie. And — it's a tie! — the surprise winners are … the evil aliens from "V," and The Web.
Boris: Steille nacht, heilege nacht! [We have a special award next.] Heureux anniversaire! [Also, I am going to vomit.]
Heather: That's right, we have the Erik Estrada Award for International Diplomacy. Who are the nominees?
Boris: ¿Donde estás, Señor Butt-head? Mucho Jepsonistas nachos… [First is The Jepson School of Leadership Studies, for its resolution of the crisis in Bosnia…] chilito meximelt pintos chicken soft taco… [and Police Chief Dillard, for this year's all-time low of campus crime incidents involving the Klingon Empire…] chimichangas su pecho es muy grande. [and, for no particular reason, Phi Delt and SPE.]
Heather: Ooh … toughie there. And — it's a tie! — the surprise winners are … Henry Kissinger and The Web! That's funny, what has Henry Kissinger done for world diplomacy?
Boris: Je t'aime plus que j'aime Jean-Luc Picard! Il est le capitáin formidablé! [I have heard that you can suck a golf ball through a garden hose.]
Heather: That doesn't sound like Russian.
Boris: Suck it up, babe. [Pozhgorodny slovo Kazakhstan, Zhivago.]
Heather: Righty ho. And now, it's time for the award we've all been waiting for.
Boris: Da. [That's right, sweet buns.] Gort: klaatu, verada, nikto. [It's time for the ever-coveted Collegian Award for Irresponsible Journalism …]
Heather: The nominees are the "Richmond Times-Dispatch," for endorsing Oliver North and Pope-abuse … "The Family Circus," for the "Little Billy is trapped in a Turkish prison" series … and Jeff Carl and Paul Caputo, for offending just about everybody there is to offend.
Boris:Omikron delta kaq YSX!… [Those guys really tweak my nipples! …] oogah-chaka, oogah-chaka, oogah, oogah oogah-chaka. [er … So to speak.]
Heather: And — it's a tie! — the surprise winners are "The Web" and "The Web."
Boris: Merde! [Boy, is that zany. Ha ha.] Zhleb. [I destroyed Communism just to get even with all the Politburo members who kept calling me "Spanky."] Gazhlop. [Also, vote for Mom in the WCGA elections.]
Heather: That's all for the televised segment of these awards. Stay tuned for the bottom of the page.
Boris: Dobrii nyoch, i Stalingrad. [Good night and God bless. These are the opinions of two deranged people and stop blaming it on The Collegian.] Sayonara. [Also, I'm not wearing any underwear.]